NRF 2021 - A Complete Guide to the Virtual Big Show
13 min read
Dec 23, 2020 3:32:41 PM
Surefront is a Unified Product Collaboration Platform with PIM, CRM, and PLM solutions. It's a centralized data home where stakeholders can freely share product information and assign access permissions. Most integrations are supported in Surefront, but none are needed. Our articles often focus on one aspect of our unified PIM, PLM, and CRM platform. With Surefront, each solution seamlessly works together to achieve a guaranteed 10x ROI for every customer.
2020 has been a year of unprecedented challenges and change. With large gatherings still suspended due to the pandemic and at-home workspaces becoming the new norm, it's hard to know when we'll be back to a life of face-to-face meetings and handshakes with business partners.
The retail industry is no exception to the impact of COVID-19. Organizations have had to shift direction, pivot strategies and practice agility in the face of these new roadblocks. With NRF's Big Show on the horizon, you may be wondering how a trade show of this magnitude can still go on. The answer: NRF 2021 Virtual Expo.
Unprecedented global circumstances required an unprecedented solution for NRF. This will be the first year the expo is in a fully virtual format. That means on Jan. 12-14, 19 & 21-22, you'll be able to experience Retail's Big Show like never before. NRF will take you into a virtual experience that will provide many of the benefits of an in-person show along with a multitude of new benefits.
With our excitement for the new format, we've put together a guide for the NRF virtual show. Here's what we'll cover in this article to help you get the best experience out of Retail's Big Show in its new virtual format:
Navigating the NRF Virtual Format
As a member of the retail industry, you may be concerned about the lack of face-to-face interaction with NRF's virtual format. Trade shows are all about networking and lead generation. You peruse the exhibitor hall, check out the booths, lock eyes with a sales person and hear their pitch about the latest and greatest retail tech. If their solution is right, maybe you exchange info.
You'll be happy to know that the Virtual Expo is designed to ensure that you don't miss out on the crucial points of a traditional expo. In fact, the most encouraging piece of info out of NRF is that the virtual format will be built on the 4 pillars of engagement that you'd look for in any good trade show.
1. Increased Networking Opportunities
You heard it here first. The NFR virtual format is going to boost your opportunities to connect and build partnerships. Before we get into the exceptional work that NRF put into their virtual networking platform, let's think of the usual show. It's called Retail's Big Show for a reason. If you've ever attended, you'll know that the expo floor is enormous, with countless exhibitor booths. If your organization was looking to attend for networking opportunities, you can forget the less-than-fashionable walking shoes or cushioned insoles for your oxfords.
The virtual format is cutting out the legwork and keeping your step counter to 0. That means you can dedicate less time and resources to connecting and relationship building. For everything you're missing in body language and verbal nuance, you're gaining more in efficiency and scale.
NRF will have tools at your disposal to facilitate matchmaking and networking. You'll be able to create a profile for visibility, allowing other companies to know who you are. Further, NRF's platform will take your profile and use the info to recommend companies to connect with. It's like having a guide take you through the expo floor and introduce you to the best booths for your organization.
Other highlights of this platform include:
One-on-One Meetings – Allows retailers and exhibitors to check each others' calendars and schedule individual video chats or text conversations.
Profiles and Calendars – The meeting and matchmaking platform opens on December 29. Make sure you build your profile and start scheduling meetings to maximize time.
24/7 Meeting Platform – Once the virtual show is underway, meetings can take place 24/7 to account for different time zones.
Make sure to mark December 29 on your calendars. That's when the platform opens and lets you get a head start on profile building and scheduling meetings. In addition to these features, NRF has come up with a range of additional networking and gathering programs to ensure you get the most out of your virtual experience. Here are the highlights you should make room for:
Interactive Discussion Rooms – Think of these as intimate networking opportunities with focused conversation starters. Up to 50 retailers will be allowed per room with a specific discussion topic of the sponsor's choice.
Exhibitor Booth Chat – Since you can't physically walk the floor and chat, NRF made sure you can still have the same experience. Each virtual booth will have an open text chat to connect with exhibitor staff and other attendees.
Exhibitor Big Ideas Sessions – If you've attended trade shows, you'll know that exhibitors set up presentations and talks for visitor engagement. You'll get the same experience here with exhibitor-produced sessions to learn more about their latest solutions and retail concepts.
The NRF virtual show is clearly designed to make sure you have all the usual networking opportunities and more. We suggest you kick off your shoes and take advantage of all the resources in one place – you'll get so much more networking done without having to navigate the giant expo hall.
2. Industry Leaders
A great trade show isn't complete without speaking engagements from industry thought leaders. As an attendee, you want to hear from the industry's best on new technology and trending topics. This was one of easiest features for NRF to transform into a virtual format. Speaking engagements, including keynote speeches, will be available via livestream.
These industry visionaries will be transported right to your home office or workspace for you to listen, learn and engage. Another great virtual feature that brings us closer to the in-person format is NRFs addition of session chat. Each keynote and featured session will have a text chat for you to interact with other audience members and submit questions to presenters (for sessions with Q&A portions). See our list of must-attend events below.
3. Tech on Display
Exhibitor booths make up a trade show's expo floor, and the Virtual Expo will be no different. Instead of physical spaces spanning the expo hall, exhibitors will have virtual booths available for you to explore, connect with staff (as detailed above), and get info on the newest solutions on the market. Exhibitors will have product videos, downloadable content and more for their featured technology.
Though the expo floor is typically well-organized with booths methodically placed in designated sections, the virtual format takes organization and accessibility to a whole new level. You'll be able to navigate hundreds of exhibitors by name or product category. Brands and booths will be a click away rather than hundreds of yards away.
4. Forward-Thinking Presentations
Beyond the regular set of speakers, NRF has a set of special engagements that are centered around the theme Forward Together. These presentations will have a forward-thinking mindset as business leaders address the most pressing issues facing the retail industry.
Primary focuses are in 5 categories:
Forward-Looking Operations
Forward-Looking Talent
Forward-Looking Experiences
Forward-Looking Models
Forward-Looking Growth
These are planned as candid conversations with industry leaders for you to assimilate and apply strategies in your own organizations. The 5 points above are critical for you to reflect upon as you look to accelerate your organizational growth.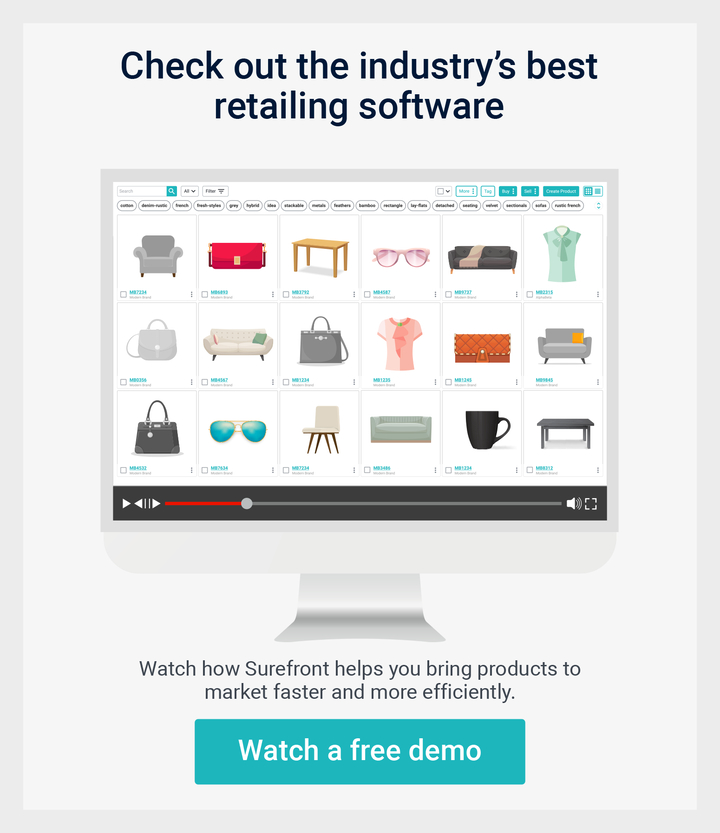 Must-Attend Events at The Big Show
One huge facet of Retail's Big Show is thought leadership. Knowledge sharing sessions, speaking engagements, presentations from industry experts and keynote speeches are some of the most important ways for you to take away new strategies for your organization. Here's a shortlist of the must-attend keynote events that you should add to your calendar right now.
1/12 | 11 – 11:45am EST
Leading through crisis: A conversation with Secretary Condoleeza Rice.
1/13 | 11:25 – 1:45am EST
Navigating disruption to drive sustained growth and balanced business objectives with former CEO and Chairman of PepsiCo, Indra Nooyi.
1/14 | 11 – 11:45am EST
The power of vision to reshape retail and the consumer experience with President and CEO of Lowe's Companies Inc., Marvin Ellison, CEO, co-founder and co-chairman of Wayfair, Niraj Shah, President and CEO of the National Retail Federation, Matthew Shay, and editor at Bloomberg, Matthew Townsend.
1/21 | 11 – 11:45am EST
Retail's rethink moment: Reimagining business as UNusual with Saks Fifth Avenue and lululemon with President, Americas and global guest innovation at lululemon, Celeste Burgoyne, President and CEO at Saks Fifth Avenue, Marc Metrick, and President, Merchant Services – U.S. at American Express, Colleen Taylor
1/22 | 1:45 – 2:30pm EST
Winning through vertical commerce in today's on-demand world with Erin Andrews, Sports Broadcaster and Founder of WEAR by Erin Andrews, Doug Mack, CEO Fanatics, and Matthew Shay, President and CEO National Retail Federation.
Startup Zone - 2021's Breakout Companies
Retail's Big Show isn't always about the big, established organizations. Sure, their booths make an impression with their grand scale and eye-catching displays, but not this year. With the virtual format, everyone has a similar virtual booth. We suggest you carve out time for exploration and engagement of the new players at the show. With the digital format, finding time for this will be much easier. Plus, NRF made it twice as easy by including the "Startup Zone" in their virtual format.
The Startup Zone features the new and exciting companies who have recently launched in the retail industry. These companies are looking to push the envelope and solve the most relevant pain points in retail as well as forecast the solutions that will be necessary going forward. Now more than ever, the retail industry is scrambling to find new technology solutions making the Startup Zone potentially the most valuable section to visit this year at NRF.
Surefront will be featured in the Startup Zone. Our Unified Collaboration Management platform is on the pulse of what retailers need to optimize their supply chain and accelerate growth. If you're a retailer or a brand, you'll want to check out our booth. More on our presence at the NRF virtual show below.
8 Companies You Can't Miss at NRF 2021
Looking ahead to the NRF virtual show, we put together a list of the 8 companies you can't miss. This is a collection of the biggest influencers in our industry along with some of the most forward-thinking solution providers. Here's a quick breakdown of who these companies are and what they'll have to offer at the show.
1. Planalytics
Once a data provider and consulting firm turned SaaS platform, Planalytics has pioneered climate-driven solutions over the last 3 decades. They empower companies to use weather as a metric in their everyday business practices. When it comes to forecasting retail demand, weather can be a critical factor in the purchasing process. Check out their NRF page for more information on their virtual booth.
Planalytics has a fascinating interactive discussion on the books. Executive Vice President, Evan Gold will be leading the discussion focused on gauging performance and planning ahead after a year lacking meaningful comps due to COVID-19. "Coming off a year where consumer buying behavior changed so dramatically makes this difficult, but there are COVID-proof demand signals, such as weather, that retailers are using to clearly evaluate results and to identify opportunities for sales growth."
You won't want to miss this one. The discussion is limited to 50 individuals on a first-come, first-serve basis. Mark your calendar:
1/19 | 1:30 – 2pm EST
Planalytics Interactive Discussion: Forecasting and managing 2021 performance without meaningful comps
2. Salesforce
It's always key to keep up with the world's largest CRM. Their organizational focus is helping marketing, sales, ecommerce, service and IT teams work from anywhere – so you can keep your customers happy anywhere.
At the NRF virtual show, Salesforce will be showcasing Salesforce Customer 360 for Retail, which "allows retailers to build loyalty with seamless shopping experiences from awareness through advocacy, supported by a comprehensive set of innovative solutions, products and expertise." You'll want to stop by their virtual booth and mark your calendar for a few exciting sessions with their experts:
1/12 | 2 – 2:30pm EST
Exhibitor Big Ideas – The future of digital: Engaging customer beyond the buy button produced by Salesforce
1/12 | 2:45 – 3:15pm EST
Exhibitor Big Ideas – The future of customer loyalty: Connected, personalized experiences produced by Salesforce
1/13 | 12:30 – 1pm EST
Exhibitor Big Ideas – Salesforce Unlock the Shopper Journey Lunch and Learn Session: How e.l.f. Beauty builds lasting customer loyalty with Salesforce + Google
3. Surefront
You can locate Surefront at virtual booth #182. When it comes to an all-in-one platform for brands and retailers to collaborate on Merchandising and Product Development, this platform goes beyond your traditional tools. Surefront is a Unified Collaboration Management (UCM) platform to streamline product development, merchandising and purchase orders.
Surefront's solution bridges ERPs, PLMs, PIMs and other enterprise systems with a streamlined solution that keeps all of your work in one place, so you can save time better spent on growing sales and increasing margin. Decades old tools like email, PDFs and spreadsheets are likely creating chaos in your operations and slowing down your time to market. Surefront's patented technology unifies retailers and suppliers by combining communications and product information.
We highly suggest you stop by virtual booth #182 and learn more about how this cutting-edge technology can accelerate your organizational growth. For more information on Surefront's presence at NRF 2021, visit our exhibitor page.
4. SAP
Originally known for their enterprise resource planning (ERP) software, SAP has become a mainstay in the industry. They have evolved to become a market leader in end-to-end enterprise software, database, analytics, intelligence technologies, and experience management. In other words, with so many touch points across such a vast variety of enterprises, it's always important to pay attention to what SAP has to offer.
For the show, SAP will have a range of their divisions represented including:
SAP Consumer Products
SAP Customer Experience
SAP Digital Supply Chain
SAP Human Experience Management
SAP Retail
5. IBM
Another titan of industry, IBM will have a large presence at the NRF virtual show. Their strategies and technologies are centered around hybrid cloud and AI that can accelerate customer engagement with products and services. That should be music to any retailer's ears. Large ideas mean a big presence at Retail's Big Show and this year is no exception for IBM.
IBM will be represented by their experts at 6 virtual booths, each with a distinct theme:
Retail is open with hybrid cloud
Move at the speed of the consumer with smart, flexible options
Agility: Never more important and never more attainable
Engage customers everywhere with experiences that earn loyalty and trust
Harness the full power of your enterprise applications
Differentiate through a dynamic and resilient supply chain and smarter, safer spaces
6. First Insight
First Insight is a leading Experience Management (XM) platform. They lead the voice-of-customer predictive analytics industry. Their XM platform helps enterprises make decisions on product and service offerings, pricing, branding, and marketing.
In new pandemic norms, it is highly valuable to have tools that help you forecast what you'll need to best engage your consumer base. "Through the use of online consumer engagement tools, the First Insight platform gathers real-time consumer data and applies predictive analytic models to create actionable insights to power decisions which drive measurable value." We suggest you stop by their digital booth and leverage their industry insight and thought-provoking content. Here's what they have to say about their presence at the show.
7. Cisco
Again, we arrive at a ubiquitous industry name. Cisco specializes in networking, security and collaboration products designed to grow with your business. "Cisco solutions digitize and secure your entire retail environment for a more connected customer experience." Their solutions on show at NRF will be focused on building a bridge between the needs of a customer and the agility of a retailer. Through network management and visibility, along with various capabilities and integrated solutions, Cisco elevates their retail touch points. Here's more from Cisco about the Virtual Big Show.
Mark these dates on your calendar to learn and engage with Cisco experts:
1/12 | 1 – 1:30pm EST
Exhibitor Big Ideas – Delight your customers with experiences they can count on featuring PVH produced by Cisco
1/19 | 1 – 1:30pm EST
Exhibitor Big Ideas – Create meaningful community impact with connected retail operations featuring The Co-Operative Group produced by Cisco
8. Amazon Web Services
It wouldn't be retail if we didn't mention Amazon. The titan of ecommerce will have AWS on display at NRF 2021. "As the world's most comprehensive and broadly adopted cloud platform, AWS serves the industry's leading retailers – innovators and pioneers – who expect more from their technology partners."
Their virtual booth will have plenty on display with tons of food for thought. Their industry thought leaders will be out in force ready to engage with attendees. We suggest you take advantage of this; take a closer look at their exhibitor page here. We've also earmarked couple events to put down in your calendar:
1/13 | 2 – 2:30pm EST
Exhibitor Big Ideas – Jumpstart 2021 with touchless experiences produced by Amazon Web Services
1/14 | 1 – 1:30pm EST
Exhibitor Big Ideas – How Burberry is enabling digital transformation to transform customer experiences produced by Amazon Web Services
That wraps up our guide to the NRF Virtual Show. As we look ahead to this groundbreaking show format, check back for updates with more info, links and resources to get the most out of your NRF 2021 experience.
You don't want your data to be siloed. Your company's CRM, PIM and PLM solutions shouldn't operate in a vacuum, either. Surefront is a unified product collaboration platform to power growth and ROI. Our patented PIM, CRM, and PLM solutions streamline the omni channel sales, merchandising and product development processes. By combining these essential functionalities, Surefront creates a single source of truth throughout your product lifecycle, sales and listing processes.
The results? Up to 150% more revenue per employee and a 40% shorter product development cycle is just the beginning. Try our 10x ROI calculator to see your company's potential profits. Or, skip the noise and book a custom demo with one of our unified product collaboration management experts today. The retail industry evolves quickly and has a lot of moving parts. We do all of the research, so you don't have to. Stay ahead of market fluctuations, trends and new features by subscribing to our Unified Product Collaboration Management Blog.