PLM & PIM Create a Sustainable Work From Home Culture
12 min read
Sep 20, 2021 3:56:34 PM
Surefront is a Unified Product Collaboration Platform with PIM, CRM, and PLM solutions. It's a centralized data home where stakeholders can freely share product information and assign access permissions. Most integrations are supported in Surefront, but none are needed. Our articles often focus on one aspect of our unified PIM, PLM, and CRM platform. With Surefront, each solution seamlessly works together to achieve a guaranteed 10x ROI for every customer.
The concept of sustainability in business is currently at the forefront of many industry leaders' minds. As business, culture, and ethics evolve, the desire for more sustainable practices only grows. So, how does that relate to PLM software?
As we've detailed in our previous article, Product Lifecycle Management is a process by which companies develop better products over a series of cycles. PLM software helps companies achieve this by providing collaboration tools for development teams along with organized data and workflow tracking. The result is better products and better margins due to a series of improvements across concept, design, production, and distribution.
As cloud PLM software evolves, it is becoming a unified tool for companies to not only optimize their value chain and product quality, but also a means for creating a more sustainable business model.
Let's define sustainability. G2's learning center details the following: "The concept of sustainability comes with three pillars: economic, social, and environmental. Its focus is to meet the needs of today without blowing future generations' chances to meet their needs tomorrow."
As this definition suggests, sustainability goes far beyond the concept of a recycling bin. Sustainable business models look for sustainability within their company culture, within their value chain, as well as within their environment. Unified PLM software can be the key to driving improvements across the 3 P's: people, profit, and planet. For PLM software to work effectively, however, it needs to seamlessly integrate with your product information management (PIM) solution. Thats because, when your team needs immediate access to product data throughout your product lifecycle, only a unified PLM and PIM solution will give you that data access in real-time.
Here's a quick rundown of what we'll discuss when it comes to Product Lifecycle Management and sustainability:
Work From Home with Unified PLM & PIM Tools
Over the past few years there has been a big shift away from the traditional 9-5 work in the office model. With the development of increasingly robust remote video conferencing and collaboration tools, along with the pandemic, more people are either working from home or have some kind of hybrid home/office schedule.
Where does that leave product development and merchandising teams?
Without the proper tools for collaboration and workflow tracking, product development teams are left to the lowest common denominators for working remotely. That means lengthy email chains with buried attachments or separate communication-only tools like Slack or Microsoft Teams. This leaves organization, context, and transparency to be desired as geographically dispersed teams look to find a single source of truth for their ever-evolving product information.
PLM software completely revolutionizes the way product teams collaborate. A unified platform with PLM tools that seamlessly integrate with your PIM functionality, like Surefront, will organize all product data into a single, accessible repository for all users within the organization with proper hierarchy and permissions. That means with the right login credentials, your development team can collaborate on new product designs within the platform, no matter where they are physically located. From linesheets, tech packs, and bill of materials (BOM) to catalog and product showcases, Surefront's unified PLM and PIM provides everything a development team needs in a single, sustainable space.
Further, Surefront's PLM and PIM tools software facilitate object-oriented communication. That means each object, such as a product, request for quote (RFQ), quote, and order, within the platform has its own built-in chat function. This allows teammates to communicate directly on the product or relevant data point without ever leaving the platform. This is miles ahead of email and separate channel-based communication tools as it brings collaborators together as if they were working at the same office in front of the same whiteboard.
Surefront Unified Product Collaboration Platform goes way beyond traditional PLM software. It does this by allowing internal users to easily engage any 3rd party collaborators like manufacturers, other franchise partners, or buyers at major retailers directly in the platform. This further eliminates the need for outdated, siloed correspondence and brings all data and communications right into one screen.
Let's take a closer look at the impact work from home culture can have on overall sustainability.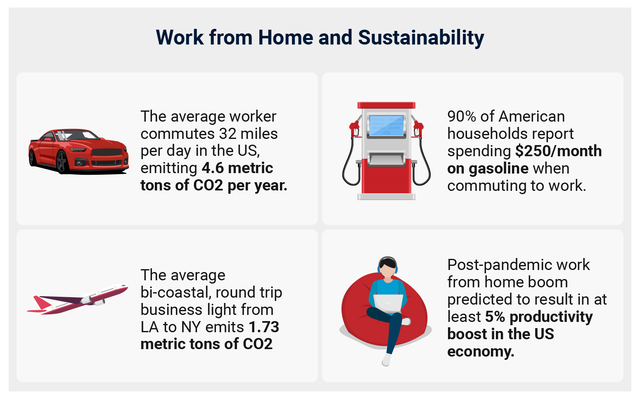 On average, workers in the US commute 16 miles, one way, to work. With a 32-mile round trip to work, 5 days a week, the average commuter car emits an estimated 4.6 metric tons of CO2 per year. Product development and merchandising teams, who already have a need for robust collaboration tools like PLM and PIM software, now have the flexibility to work from anywhere, eliminating their need to commute and reducing each employee's carbon footprint by up to 98%.
The same goes for brands in the retail industry who often travel to meet with manufacturers, suppliers, or retail partners. Frequent business trips add up not only in out-of-pocket travel and accommodation expenses, but also in carbon emissions. The average bi-coastal, round-trip business flight from Los Angeles to New York emits 1.73 metric tons of CO2 (more than ⅓ of the average commuter's yearly car emissions in one trip). In contrast, Surefront Unified Product Collaboration Platform facilitates 3rd-party engagement and unifies product data, visuals, and communication, minimizing the need to travel and meet in person.
As newer generations of workers become more aware of the importance of sustainability in business, they seek out opportunities that are more in line with their core values.
Unified PLM Tools as a Recruiting Tool
A major part of a company's internal sustainability has to do with attracting and retaining top talent. In the US, the workforce is predominantly made up of Millennials, those born between 1981-1996. This demographic represents 35% of the workforce, with its members ranging in age from 25 to 40 in 2021. That means at the older end of the spectrum, with Millennials reaching their late 30's and early 40's, you have a new generation of experienced workers who are primed for senior roles and executive leadership.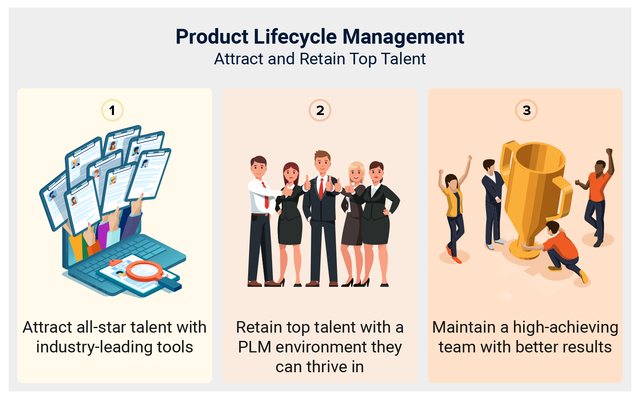 When assessing new employment opportunities, Millennials have a different set of values than previous generations that centers around 3 key areas:
Work/life balance
Technology
Sustainability
Unified PLM and PIM tools drive improvements across these categories and make it easier to attract all-star product development and merchandising professionals.
As detailed in the previous section, work from home flexibility is important to most workers. With a higher demand for work from home opportunities comes a rapidly evolving job market. On popular recruiting site LinkedIn, US jobs that allow remote work jumped from only 2% in mid 2020 to over 10% in mid 2021. Those job listings are now reportedly receiving more than 25% of all applications on the site.
If you're a retailer or a brand who wants to hire and maintain high-achieving product development and merchandising teams, it's time to start thinking about your tech stack and what tools you have that support truly effective remote work. Unified PLM and PIM tools should be at the top of the list, as they will make your team thrive in a remote or semi-remote environment.
As the industry's top performers become more accustomed to cloud-based retail software and the benefits of a work from home setup, they will become increasingly unwilling to go back to traditional in-office jobs. Keeping a happy, high-performing team pays dividends, as reports suggest that employers with lower employee turnover often enjoy up to 4x higher profits than those who have difficulty retaining their talent.
Bloomberg recently reported that in an online poll of American workers, 65% of the survey takers would be willing to take 5% lower pay to be guaranteed a work from home position. Close to half said they would be willing to give up 25% of their days off, while 15% responded that they would sacrifice all of their paid time off for a work from home job. This puts you in an incredibly strong position as an employer who is willing to adopt new technologies for remote work.
For example, let's say you're a major home furnishings supplier and you need to recruit a new Creative Director. Rather than having to compete strictly on providing a top salary, you can now use technology and a healthy work from home culture as your prime bargaining chips (which already save you money) while offering a competitive, yet lower salary than you would for a traditional in-office position. Both parties win in this situation.
Driving Employee Success with Unified PLM & PIM Tools
The benefits of PLM and PIM software for attracting talent go beyond simply facilitating remote work. Top talent is also attracted by environments they can thrive in. Most job seekers, particularly in the Millennial group, look closely at a company's tech stack when considering signing on for employment.
Since software tools are an increasingly important part of the courtship between prospective employer and employee, why not increase your chances of landing and retaining the best talent by appealing to this new generation of digitally native and eco-conscious workers? What is unified PLM and PIM software if not a facilitator of speedy and efficient work, while reducing overall waste?
Another facet of sustainability that unified PLM and PIM software touches upon is the growing demand for more eco-friendly products. But, how can a B2B software application like a Unified Product Collaboration Platform affect the consumer?
The answer is pretty straightforward. If your brand uses PLM & PIM software to reduce its carbon footprint in its product development pipeline, as well as in its supply chain, then at the retail level, your products can be marketed as eco-conscious goods. Studies show that more than 65% of consumers report a willingness to spend more on sustainable products.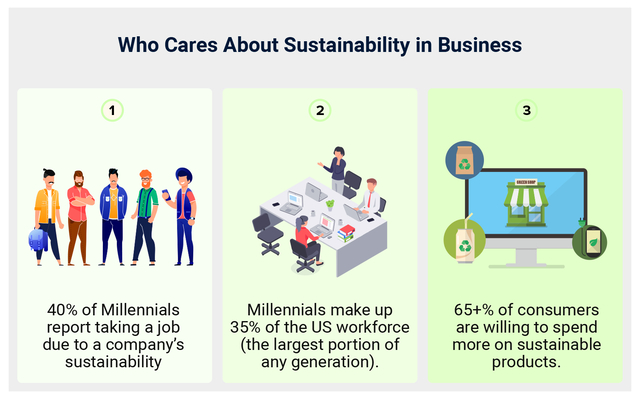 In addition, unified PLM & PIM software reduces the number of samples sent back and forth from supplier to retailer. With fewer rounds of samples being sent via expensive courier services like FedEx and UPS, you're trimming overall costs, improving speed to market, and further minimizing your carbon footprint.
With more sustainable products in demand, you can leverage unified PLM and PIM software to broaden your range of eco-friendly products. After which you'll find yourself with more demand at the retail level and a wider variety of opportunities to wholesale your goods. This boosts marketability and brand value while opening the door to new opportunities.
Unified PLM & PIM Software is an Institutional Asset
Another way to look at internal sustainability of an organization is overall growth and company value. This often attracts private equity investors who look to invest in companies that have the most potential for growth and profit. Unified PLM and PIM software ends up being an institutional asset for your company when implemented and maintained correctly because it gives you natural aggregation and history for your product data.
Surefront Unified Product Collaboration Software takes that value up several notches by including a history of communications and financial/sales history as critical parts of your data (that's part of our PIM functionality, which other traditional PLM solutions don't have). Surefront blends the best elements of Product Information Management (PIM) software into a PLM tool that elevates the standards for Product Lifecycle Management. This can be a major game changer for investors when they review your portfolio of value-added assets.
Here are a few of the items that private equity investors look for in their candidates:
Market position and competitive advantages
Avenues for growth
Stable, consistent cash flow
Favorable industry trends
Data transparency
Unified PLM and PIM software touches upon each one of these points. An established process of bringing products to market with the right unified PLM and PIM software to back it up is both a competitive advantage and an avenue for growth. The principles of Product Lifecycle Management are built upon the continual trimming of waste in your product development pipeline and supply chain. Product Information Management gives you instant access to the data you need to make the aforementioned decisions. The more efficient the workflow and the better the product quality, the more you'll outperform the competition.
This goes hand-in-hand with creating a stable and consistent cash flow. Better products produced at better prices in the quickest manner will always attract more customers and more business. The product development and merchandising flow is all about creating and offering the right products, at the right time, at the right prices. The right Unified Product Collaboration Platform will keep this concept at its core.
Favorable industry trends touch both upon the progressiveness of unified PLM and PIM tools for sustainability, as well as industry-disrupting technologies. Surefront's Unified Product Collaboration Platform, in particular, is pushing the definition of what retail software solutions can do. Not only does it empower the user to create better products, but it creates an ecosystem for repeatable success in development, merchandising, and sales (CRM).
Finally, there is data transparency. This is one of the most attractive value propositions for private equity investors. Investors love empirical data. Any unified PLM and PIM solution will have all of your product data stored in the system.
This is yet another facet of traditional PLM that Surefront elevates beyond the other solutions on the market. In the platform, you have access to historical data of all products, financials related to those products, and each piece of communication tied to those data points. As Surefront is a secure, integrated PLM and PIM solution, organizational knowledge transfer becomes incredibly simple. This also makes it easier to onboard new team members across a variety of teams in your organization, which is an additional growth facilitator.
If a private equity investor becomes the majority stakeholder for a company that uses Surefront, providing them login credentials to the platform is like handing over a set of keys that gives them direct access to all the data they desire, kept in a single, clean source of truth.
Unified PLM & PIM Software - Growing Business
At the top of this article, we referenced the 3 P's of sustainability: people, profit, and planet. We've discussed a whole lot about people and planet, but let's zoom in to profit here. Any good sustainable business model should focus on accelerating sales and growing profit in tandem with eco-conscious efforts. According to statistics from Mckinsey, sustainable business models can have a substantial impact on reducing operational costs, impacting profits up to 60%.
Regardless of your commitment to sustainability or remote work models, it's time to start thinking about a Unified Product Collaboration platform as the frontier for improving product quality, maximizing efficiency, and accelerating sales.
Surefront's unified platform provides you with a full suite of tools to take products from concept all the way to a purchase order. Where other PLM solutions lack tools beyond the development stages, Surefront is the first integrated PLM and PIM platform that provides merchandising teams with everything they need to complete wholesale initiatives.
Once sales your team has their finished products created in their Surefront catalog, they can invite their buyers and business partners into the platform to view showcases. That's where our CRM tools come into play, working in tandem with PIM to allow 3rd party collaborators to see only the specs and information that your team chooses to share, while keeping sensitive financial information private for your team.
From there, buyers can request quotes on certain products and leave notes about colors, materials, or other aesthetic elements that may help push to a faster purchase order. When they are ready to finalize that wholesale order, you can do so in Surefront. From discovery, to discussion, to listing products, to finalizing orders, all data and communications live in the platform, making it the most comprehensive unified collaboration solution in the industry.
You don't want your data to be siloed. Your company's CRM, PIM and PLM solutions shouldn't operate in a vacuum, either. Surefront is a Unified Product Collaboration Platform to power growth and ROI. Our patented PIM, CRM, and PLM solutions streamline the omni channel sales, merchandising and product development processes. By combining these essential functionalities, Surefront creates a single source of truth throughout your product lifecycle, sales and listing processes.
The results? Up to 150% more revenue per employee and a 40% shorter product development cycle is just the beginning. Try our 10x ROI calculator to see your company's potential profits. Or, skip the noise and book a custom demo with one of our unified product collaboration management experts today. The retail industry evolves quickly and has a lot of moving parts. We do all of the research, so you don't have to. Stay ahead of market fluctuations, trends and new features by subscribing to our Unified Product Collaboration Management Blog.